Three Sisters Soup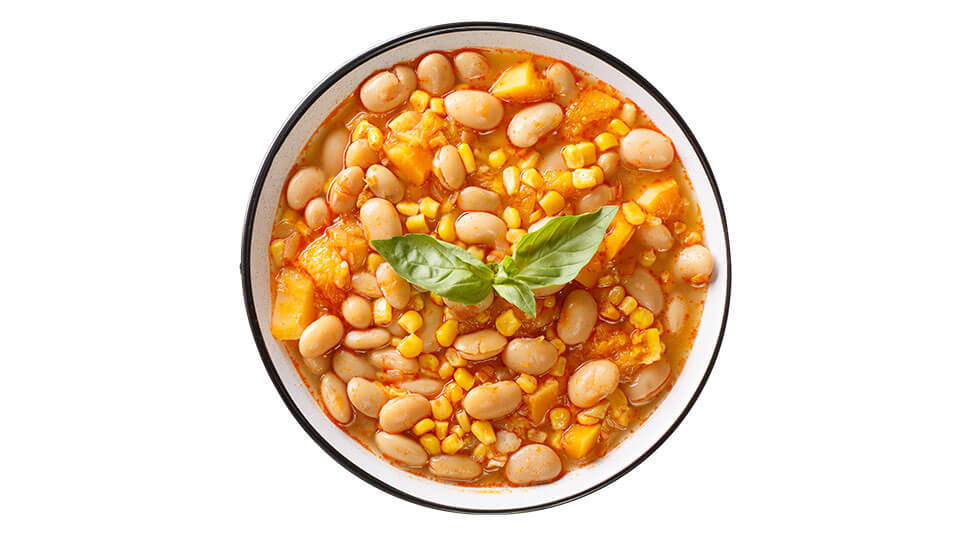 Corn, beans, and squash are three inseparable sisters who only grow and thrive together. These three plants are important in traditional Native American agriculture as well as in cooking. When used together in a recipe, the three sisters create a balanced meal, providing valuable vitamins and nutrients. As the temperature continues to drop, warm up with this delicious harvest soup made with the nourishing trio of corn, beans, and squash.
Ingredients
4 pounds winter squash
2 small yellow onions, diced
1 bunch green onions, sliced
¼ cup garlic, chopped
2 teaspoons dried thyme
1 teaspoon ground black pepper
4 quarts vegetable stock (or water)
1 large bay leaf
½ cup white wine
¼ cup olive oil
1 pound fresh or frozen corn kernels
4 cans cannellini beans
Instructions
Preheat the oven to 350°F. Slice your squash in half and scoop out the seeds, then roast for about 40 minutes. Allow to cool once soft, then scrape out the flesh and save the liquid for later. Blend until completely smooth (you can use a food processor or blender).
Sauté onions in a large pot over medium heat until brown. Add garlic, thyme, and black pepper, stirring until the garlic turns brown as well.
Pour in the vegetable stock and follow with the bay leaf, wine, and squash. Allow it to simmer for a few minutes before adding the rest of your ingredients. Simmer for about 20 minutes total.